Edward R. Watkins

Edward R. Watkins, PhD, CPsychol, is Professor of Experimental and Applied Clinical Psychology at the University of Exeter, United Kingdom, and Director of the Mood Disorders Centre and the Study of Maladaptive to Adaptive Repetitive Thought (SMART) Lab. Dr. Watkins has practiced as a cognitive-behavioral therapist for 20 years, specializing in depression. His research focuses on the experimental understanding of psychopathology in depression—with a particular focus on repetitive negative thought and rumination—and the development and evaluation of new psychological interventions for mood disorders, including randomized controlled trials of treatments targeting rumination in depression. Dr. Watkins is a recipient of the British Psychological Society's May Davidson Award for outstanding contributions to the development of clinical psychology within the first 10 years of his career.

---
All titles by Edward R. Watkins: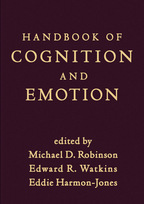 Handbook of Cognition and Emotion
Edited by Michael D. Robinson, Edward R. Watkins, and Eddie Harmon-Jones
Hardcover
March 29, 2013
$132.00
e-Book
April 3, 2013
$132.00
Print + e-Book
Save 45%!
$264.00
$145.20