Ellen E. Pinderhughes

Ellen E. Pinderhughes, PhD, is Professor in the Eliot–Pearson Department of Child Study and Human Development at Tufts University. A developmental and clinical psychologist, she studies contextual influences on and cultural processes in parenting among families facing different challenges. Dr. Pinderhughes's research interests include cultural socialization and preparation for bias among transracial adoptive parents; stigma; pathways to fatherhood and family life among gay fathers; and the role of race, ethnicity, and culture in parenting and youth outcomes. A past William T. Grant Faculty Scholar, Dr. Pinderhughes was a member of the Institute of Medicine Committee on Child Maltreatment Research, Policy, and Practice for the Next Decade: Phase II, which issued the report New Directions in Child Abuse and Neglect Research. She is a member of several boards focused on enhancing the lives of marginalized youth and families through research and practice.


---
All titles by Ellen E. Pinderhughes: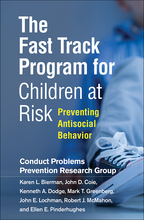 The Fast Track Program for Children at Risk: Preventing Antisocial Behavior
Conduct Problems Prevention Research Group, Karen L. Bierman, John D. Coie, Kenneth A. Dodge, Mark T. Greenberg, John E. Lochman, Robert J. McMahon, and Ellen E. Pinderhughes
Foreword by Patrick H. Tolan
Hardcover
October 30, 2019
$35.00
e-Book
September 11, 2019
$35.00
Print +

e-Book


Save 45%!
$70.00
$38.50