Emily A. Holmes

Emily A. Holmes, DClinPsy, PhD, is Professor of Psychology in the Department of Clinical Neuroscience at the Karolinska Institute, Stockholm, Sweden. She is also Visiting Professor of Clinical Psychology at the University of Oxford, United Kingdom, and Honorary Scientist in the MRC Cognition and Brain Sciences Unit, University of Cambridge. Dr. Holmes is an associate editor of Behaviour Research and Therapy. Her research and extensive publications focus on mental imagery and emotional biases across psychological disorders. She is a recipient of the May Davidson Award from the British Psychological Society, the Comenius Early Career Award from the European Federation of Psychologists' Associations, and the Award for Distinguished Early Career Scientific Contribution to Psychology from the American Psychological Association, among other honors.

---
All titles by Emily A. Holmes: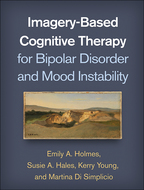 Imagery-Based Cognitive Therapy for Bipolar Disorder and Mood Instability

Emily A. Holmes, Susie A. Hales, Kerry Young, and Martina Di Simplicio
Foreword by Gillian Butler
Afterword by Guy Goodwin
Paperback
May 30, 2019
$30.00
$25.50
e-Book
May 30, 2019
$30.00
$25.50
Print + e-Book
Save 45%!
$60.00
$33.00