Evan Ortlieb
Evan Ortlieb, PhD, is Dean and Zucker Endowed Chair in Entrepreneurial Education Leadership in the Zucker Family School of Education at The Citadel. His expertise centers on literacy teacher preparation, leveraging diversity as an asset in classrooms, and educational leadership. Dr. Ortlieb currently serves as coeditor of the journal Literacy Research and Instruction. He has served as an area chair of the Literacy Research Association and a board member of the Specialized Literacy Professionals Special Interest Group of the International Literacy Association. He is Founder and President of the Ortlieb Foundation, a nonprofit organization that provides college scholarships for cancer survivors.


---
All titles by Evan Ortlieb: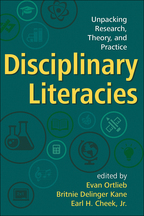 Disciplinary Literacies: Unpacking Research, Theory, and Practice

Edited by Evan Ortlieb, Britnie Delinger Kane, and Earl H. Cheek, Jr.