Frank E. Yeomans

Frank E. Yeomans, MD, PhD, is Clinical Associate Professor of Psychiatry at Weill Cornell Medical College, Director of Training at the Personality Disorders Institute at New York Presbyterian Hospital–Weill Cornell Medical College, and Adjunct Associate Clinical Professor of Psychiatry at the Columbia University Vagelos College of Physicians and Surgeons. Dr. Yeomans is an Honorary Member of the American Psychoanalytic Association, President of the International Society for Transference-Focused Psychotherapy, and Chair of the Committee on Psychotherapy of the Group for the Advancement of Psychiatry. His primary interests are the development, investigation, teaching, and practice of psychotherapy for personality disorders. He has helped establish training programs in many countries and has published numerous articles and books.


---
All titles by Frank E. Yeomans: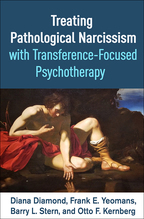 Treating Pathological Narcissism with Transference-Focused Psychotherapy

Diana Diamond, Frank E. Yeomans, Barry L. Stern, and Otto F. Kernberg
Hardcover
November 11, 2021
$55.00
e-Book
September 8, 2021
$55.00
Print + e-Book
Save 45%!
$110.00
$60.50