Gabriele Oettingen

Gabriele Oettingen, PhD, is Professor of Psychology at New York University and the University of Hamburg, Germany. Dr. Oettingen's research differentiates among various types of thinking about the future and examines their developmental and situational origins, as well as their effects on the control of cognition, emotion, and behavior. She has pointed out the perils of positive thinking and discovered mental contrasting, an imagery-based self-regulation technique that, by drawing on nonconscious processes, is effective for mastering one's everyday life and long-term development. Dr. Oettingen has published in journals of social, personality, developmental, educational, health, clinical, organizational, and consumer psychology, as well as in neuropsychological and medical journals. Her work led to the creation of effective and easy-to-apply behavior change interventions, and she is the author or coauthor of several books in the area of behavior change.


---
All titles by Gabriele Oettingen: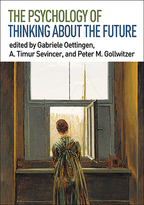 The Psychology of Thinking about the Future
Edited by Gabriele Oettingen, A. Timur Sevincer, and Peter M. Gollwitzer
Hardcover
March 30, 2018
$85.00
$72.25
e-Book
February 12, 2018
$85.00
$72.25
Print + e-Book
Save 45%!
$170.00
$93.50