Gregory M. Walton

Gregory M. Walton, PhD, is Associate Professor of Psychology and the Michael Forman University Fellow in Undergraduate Education at Stanford University. His research focuses on how basic social-psychological processes contribute to major social problems, such as how negative stereotypes and stigma change school settings for minority group members in ways that can undermine these students' feelings of belonging and achievement. Dr. Walton develops novel psychological interventions to address these processes, including to increase student motivation, improve academic achievement, and reduce achievement gaps between groups. He is a recipient of many awards for his research, including the Cialdini Prize and the Wegner Theoretical Innovation Prize from the Society for Personality and Social Psychology.

---
Read a Q & A
with featured author, Gregory M. Walton!
---
All titles by Gregory M. Walton: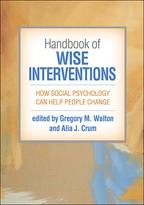 Handbook of Wise Interventions: How Social Psychology Can Help People Change

Edited by Gregory M. Walton and Alia J. Crum
Hardcover
November 10, 2020
$55.00
$41.25
e-Book
November 4, 2020
$55.00
$41.25
Print + e-Book
Save 45%!
$110.00
$60.50