Holly A. Tuokko

Holly A. Tuokko, PhD, a clinical neuropsychologist, is Professor of Psychology and a member of the graduate faculty in the Clinical Psychology Training Program at the University of Victoria, British Columbia, Canada, where she is also a research affiliate of the Institute on Aging and Lifelong Health. Prior to joining the University of Victoria, Dr. Tuokko was Supervising Psychologist at the Clinic for Alzheimer Disease and Related Disorders at UBC Hospital and worked on a geriatric mental health outreach team. She coordinated the neuropsychological component of the Canadian Study of Health and Aging and was Senior Investigator for a program of research on mental health and aging, including the evolution of cognitive disorders. Dr. Tuokko is the Psychological Health theme leader for the Canadian Longitudinal Study of Aging.


---
All titles by Holly A. Tuokko: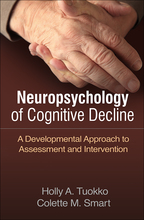 Neuropsychology of Cognitive Decline: A Developmental Approach to Assessment and Intervention

Holly A. Tuokko and Colette M. Smart
Hardcover
June 5, 2018
$55.00
$46.75
e-Book
June 5, 2018
$55.00
$46.75
Print + e-Book
Save 45%!
$110.00
$60.50