James A. Russell

James A. Russell, PhD, is Professor of Psychology and Director of the Emotion Development Lab at Boston College. His research centers on human emotion, with interests in how large-scale environments influence emotion, the nature of emotion, how emotions can be described and assessed, a circumplex model of core affect, cultural similarities and differences in emotion concepts, and the perception of emotion from facial expressions. Dr. Russell is an Editor-In-Chief of Emotion Review and a Fellow of the American Psychological Association and the Association for Psychological Science. He has published more than 100 articles in scientific journals.


---
All titles by James A. Russell: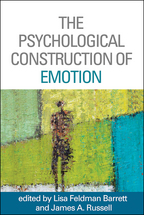 The Psychological Construction of Emotion
Edited by Lisa Feldman Barrett and James A. Russell
Afterword by Joseph E. LeDoux
Hardcover
October 29, 2014
$70.00
$52.50
e-Book
November 10, 2014
$70.00
$52.50
Print + e-Book
Save 45%!
$140.00
$77.00