Jeffrey W. Sherman

Jeffrey W. Sherman, PhD, is Professor of Psychology at the University of California, Davis. His research investigates the cognitive processes underlying social psychology and behavior, with particular interests in attitude formation and change and how stereotypes and prejudice affect social perception. Dr. Sherman is Editor of the journal Social Cognition. A Fellow of the Association for Psychological Science (APS), the Society for Personality and Social Psychology (SPSP), and the Society for Experimental Social Psychology (SESP), he is a recipient of other honors including the Theoretical Innovation Prize from SPSP and the Anneliese Maier Research Award from the Alexander von Humboldt Foundation and the German Federal Ministry of Education.

---
All titles by Jeffrey W. Sherman: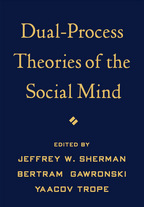 Dual-Process Theories of the Social Mind
Edited by Jeffrey W. Sherman, Bertram Gawronski, and Yaacov Trope
Hardcover
April 22, 2014
$97.00
$72.75
e-Book
May 9, 2014
$97.00
$72.75
Print + e-Book
Save 45%!
$194.00
$106.70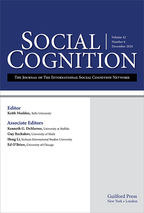 Social Cognition: The Official Journal of the International Social Cognition Network

Edited by Jeffrey W. Sherman, PhD
University of California at Davis