Jennifer I. Downey

Jennifer I. Downey, MD, Deputy Editor of Psychodynamic Psychiatry, is Clinical Professor of Psychiatry at the Columbia University College of Physicians and Surgeons and Faculty Member at the Columbia Center for Psychoanalytic Training and Research. Dr. Downey has conducted research on sexual orientation in women, Turner Syndrome, and mental health effects of infertility in women, and was the first investigator to demonstrate that sex hormones in homosexual and heterosexual women do not differ. Past president of the American Academy of Psychodynamic Psychiatry and Psychoanalysis, Dr. Downey was the first recipient of the Academy's Victor J. Teichner Award. She was Visiting Professor at the University of Kentucky from 2009–2011. She practices in New York City.


---
All titles by Jennifer I. Downey: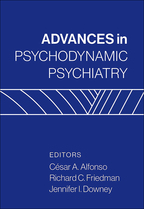 Advances in Psychodynamic Psychiatry
Edited by César A. Alfonso, Richard C. Friedman, and Jennifer I. Downey
Hardcover
November 30, 2018
$49.00
$36.75
e-Book
November 30, 2018
$49.00
$36.75
Print + e-Book
Save 45%!
$98.00
$53.90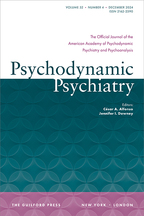 Psychodynamic Psychiatry: The Official Journal of The American Academy of Psychodynamic Psychiatry and Psychoanalysis

Interim Editors: César A. Alfonso, MD, Columbia University and Jennifer I. Downey, MD, Columbia University