Jörg Henseler

Jörg Henseler, PhD, is Full Professor and Chair of Product–Market Relations in the Faculty of Engineering Technology of the University of Twente in The Netherlands. He is also Visiting Professor at NOVA Information Management School, NOVA University of Lisbon, Portugal, and Distinguished Invited Professor in the Department of Business Administration and Marketing at the University of Seville, Spain. His broad-ranging research interests encompass empirical methods of marketing and design research as well as the management of design, products, services, and brands. A highly cited researcher, Dr. Henseler is a leading expert on partial least squares (PLS) path modeling, a composite-based structural equation modeling (SEM) technique that bridges design and behavioral research. He has written dozens of scholarly articles, edited or authored several books, served as guest editor for three special journal issues, and chaired conferences on PLS. He serves on several journal editorial boards and has been an invited speaker on SEM at universities around the world. Dr. Henseler chairs the scientific advisory board for the ADANCO software program and regularly provides seminars on PLS path modeling at the PLS School.

---
All titles by Jörg Henseler: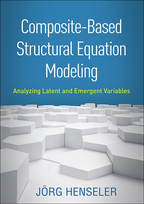 Composite-Based Structural Equation Modeling: Analyzing Latent and Emergent Variables

Jörg Henseler
Hardcover
February 12, 2021
$70.00
$52.50
e-Book
December 24, 2020
$70.00
$52.50
Print + e-Book
Save 45%!
$140.00
$77.00