Joseph Spinazzola

Joseph Spinazzola, PhD, a clinical psychologist in private practice, was a clinician, researcher, clinical supervisor, and national trainer for the Trauma Center in Brookline, Massachusetts, for over 18 years, including 12 years as Executive Director. He is Adjunct Professor at Richmont Graduate University, a member of The Forensic Panel consulting practice, and Executive Director of the Foundation Trust. Dr. Spinazzola founded the Complex Trauma Treatment Network of the National Child Traumatic Stress Network, coauthored the International Society for Traumatic Stress Studies's expert guidelines for the treatment of complex posttraumatic stress disorder, served as Co-Principal Investigator of the developmental trauma disorder national field trials, and has published over 60 peer-reviewed journal articles and book chapters. He is also the lead developer of the Trauma Drama intervention for youth and young adults.

---
All titles by Joseph Spinazzola: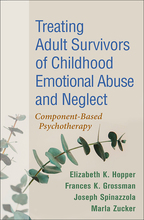 Order both items for $59.95, instead of $84.00 if bought separately!