Julie J. Exline

Julie J. Exline, PhD, is Professor in the Department of Psychological Sciences at Case Western Reserve University. Her primary research interests focus on spiritual struggles and supernatural attributions. Dr. Exline is a clinical psychologist and was certified as a spiritual director through the Ignatian Spirituality Institute at John Carroll University. She is a past president of the Society for the Psychology of Religion and Spirituality (Division 36 of the American Psychological Association) and is a recipient of the Society's Margaret Gorman Early Career Award, Virginia Sexton Mentoring Award, and William James Award, in recognition of her research in the psychology of religion and spirituality.

---
Read a Q & A
with featured author, Julie J. Exline!
---
All titles by Julie J. Exline: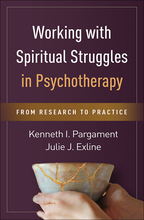 Working with Spiritual Struggles in Psychotherapy: From Research to Practice

Kenneth I. Pargament and Julie J. Exline
Hardcover
November 10, 2021
$45.00
e-Book
October 4, 2021
$45.00
Print + e-Book
Save 45%!
$90.00
$49.50