Kristin Bernard

Kristin Bernard, PhD, is Assistant Professor of Psychology at Stony Brook University. As Director of the Developmental Stress and Prevention Lab, she is interested in how early-life stress influences children's neurobiological and behavioral development and how optimal caregiving and preventative interventions may buffer at-risk children from problematic outcomes. As a graduate student, Dr. Bernard worked with Mary Dozier on the development and evaluation of Attachment and Biobehavioral Catch-Up (ABC), and delivered the intervention as a parent coach. She continues to collaborate with Dr. Dozier and her team on evaluations of ABC's efficacy and is leading dissemination efforts in New York City in collaboration with Power of Two and the Administration for Children's Services. Dr. Bernard is a recipient of the Excellence in Attachment Research Dissertation Award from the Society for Emotion and Attachment Studies and was named a Rising Star by the Association for Psychological Science.


---
All titles by Kristin Bernard: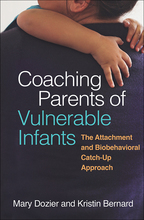 Coaching Parents of Vulnerable Infants: The Attachment and Biobehavioral Catch-Up Approach

Mary Dozier and Kristin Bernard
Hardcover
April 4, 2019
$35.00
$29.75
e-Book
February 19, 2019
$35.00
$29.75
Print + e-Book
Save 45%!
$70.00
$38.50