Laura L. Feuerborn

Laura L. Feuerborn, PhD, NCSP, is Professor in the School of Education at the University of Washington Tacoma. As a core member of the faculty since 2006, she has founded master's degree study options and graduate-level coursework in social and emotional learning (SEL) and systems change. Dr. Feuerborn's school and community partnerships, national and international presentations, and teaching expertise are grounded in the field of social, emotional, and behavioral supports. Her research and peer-reviewed publications focus on implementation science, SEL, and supporting school staff in the implementation of schoolwide positive behavior interventions and supports. She is a coauthor of Kenneth W. Merrell's Strong Kids and Strong Teens social and emotional learning programs.


---
All titles by Laura L. Feuerborn: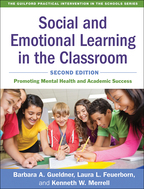 Social and Emotional Learning in the Classroom: Second Edition: Promoting Mental Health and Academic Success

Barbara A. Gueldner, Laura L. Feuerborn, and Kenneth W. Merrell
Foreword by Roger P. Weissberg
Paperback
September 1, 2020
$35.00
$26.25
e-Book
August 21, 2020
$35.00
$26.25
Print + e-Book
Save 45%!
$70.00
$38.50