Lisa M. Hagermoser Sanetti

Lisa M. Hagermoser Sanetti, PhD, BCBA, is Associate Professor in the School Psychology Program at the Neag School of Education, University of Connecticut, where she is also a Research Scientist at the Center for Behavioral Education and Research. She is a recipient of the Lightner Witmer Award for early-career scholarship in school psychology from Division 16 of the American Psychological Association. Dr. Sanetti is a Board Certified Behavior Analyst. Her research interests include implementation science, school-based mental health, and educator wellness. She is the author of over 60 journal articles and book chapters, as well as an edited collection on treatment integrity, and she has made over 100 professional presentations.

---
All titles by Lisa M. Hagermoser Sanetti: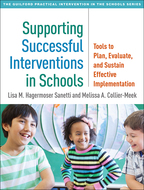 Supporting Successful Interventions in Schools: Tools to Plan, Evaluate, and Sustain Effective Implementation

Lisa M. Hagermoser Sanetti and Melissa A. Collier-Meek
Paperback
February 25, 2019
$35.00
$29.75
e-Book
January 18, 2019
$35.00
$29.75
Print + e-Book
Save 45%!
$70.00
$38.50