Martina Di Simplicio

Martina Di Simplicio, MD, PhD, is Clinical Senior Lecturer in Psychiatry at the Centre for Psychiatry, Imperial College London, United Kingdom, and Honorary Consultant Psychiatrist in the West London NHS Trust. Her research focuses on understanding the cognitive mechanisms that underlie psychopathology and that drive successful treatment of mental disorders. Dr. Di Simplicio investigates the role of mental imagery in regulating emotions, with the aim of developing innovative digital interventions for young people who experience mood instability and self-harm. She has published on emotion processing, neuroimaging, psychopharmacology, and mental imagery.


---
All titles by Martina Di Simplicio: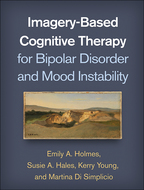 Imagery-Based Cognitive Therapy for Bipolar Disorder and Mood Instability

Emily A. Holmes, Susie A. Hales, Kerry Young, and Martina Di Simplicio
Foreword by Gillian Butler
Afterword by Guy Goodwin
Paperback
May 28, 2019
$30.00
$25.50
e-Book
April 22, 2019
$30.00
$25.50
Print + e-Book
Save 45%!
$60.00
$33.00