Mary Dozier

Mary Dozier, PhD, is Professor of Psychological and Brain Sciences and Amy E. DuPont Chair in Child Development at the University of Delaware. Since the 1990s, she has studied the development of young children in foster care and those living with neglectful birth parents. Dr. Dozier developed the Attachment and Biobehavioral Catch-Up (ABC) intervention and is currently conducting randomized clinical trials examining ABC's effectiveness with high-risk birth children, foster children, and internationally adopted children. She served on the Institute of Medicine's Committee on Child Abuse and Neglect, was an associate editor of Child Development, and serves on a number of advisory and editorial boards. Dr. Dozier is a recipient of the Translational Research Award from the International Congress on Infant Studies, the Urie Bronfenbrenner Award for Lifetime Contribution in Developmental Psychology in the Service of Science and Society from the American Psychological Association, and the Francis Alison Faculty Award from the University of Delaware, the University's highest faculty honor.

---
All titles by Mary Dozier: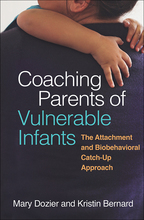 Coaching Parents of Vulnerable Infants: The Attachment and Biobehavioral Catch-Up Approach

Mary Dozier and Kristin Bernard
Hardcover
April 4, 2019
$35.00
$29.75
e-Book
February 19, 2019
$35.00
$29.75
Print + e-Book
Save 45%!
$70.00
$38.50