Melissa A. Collier-Meek

Melissa A. Collier-Meek, PhD, BCBA, is Assistant Professor in the School Psychology Program at the University of Massachusetts Boston. She is a Board Certified Behavior Analyst. Dr. Collier-Meek consults with teachers, teams, and families to support intervention implementation and build multi-tiered systems of support to promote student behavioral and academic outcomes. Her research interests include implementation science, intervention fidelity assessment, feasible promotion strategies, and consultation. She is the author of over 35 journal articles and book chapters and has made over 80 professional presentations.


---
All titles by Melissa A. Collier-Meek: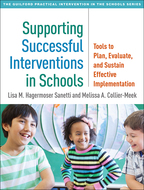 Supporting Successful Interventions in Schools: Tools to Plan, Evaluate, and Sustain Effective Implementation

Lisa M. Hagermoser Sanetti and Melissa A. Collier-Meek
Paperback
February 25, 2019
$35.00
$29.75
e-Book
January 18, 2019
$35.00
$29.75
Print + e-Book
Save 45%!
$70.00
$38.50