Mitchell J. Prinstein

Mitchell J. Prinstein, PhD, ABPP, is the John Van Seters Professor of Psychology and Neuroscience and Director of Clinical Psychology at the University of North Carolina at Chapel Hill. His research examines interpersonal models of internalizing symptoms and health-risk behaviors among adolescents, with a focus on the unique role of peer relationships in the developmental psychopathology of depression, self-injury, and suicidality. Dr. Prinstein is a past editor of the Journal of Clinical Child and Adolescent Psychology and a past president of the Society for a Science of Clinical Psychology and the Society for Clinical Child and Adolescent Psychology. He is a recipient of awards including the Theodore Blau Early Career Award from the Society of Clinical Psychology of the American Psychological Association (APA), the Brickell Memorial Award for research on suicidality from Columbia University, the Mentor Award from the Association for Behavioral and Cognitive Therapies, the Beverly Thorn Award for Outstanding Service from the Council of University Directors of Clinical Psychology, and the Raymond D. Fowler Award for Outstanding Contribution to the Professional Development of Graduate Students from the American Psychological Association of Graduate Students.


---
All titles by Mitchell J. Prinstein: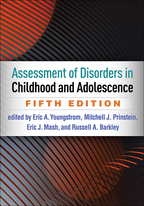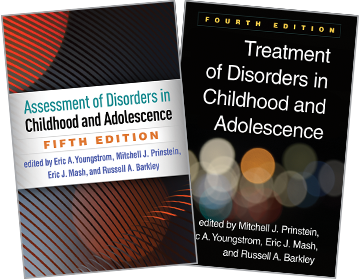 Order both items — a $140.00 value for $99.95!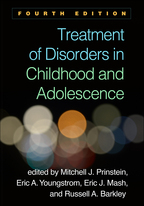 Treatment of Disorders in Childhood and Adolescence: Fourth Edition

Edited by Mitchell J. Prinstein, Eric A. Youngstrom, Eric J. Mash, and Russell A. Barkley