Neil Brewer

Neil Brewer, PhD, is Matthew Flinders Distinguished Emeritus Professor of Psychology at Flinders University, South Australia. He is a Fellow of the Association for Psychological Science and of the Academy of Social Sciences in Australia. His research addresses eyewitness identification and recall, juror judgments, and, recently, interactions between individuals with autism spectrum disorder and the justice system. Dr. Brewer has served as the editor of the Journal of Experimental Psychology: Applied and as an editorial board member for all the major psychology–law journals.

---
All titles by Neil Brewer: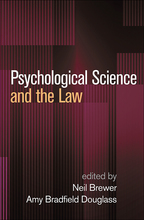 Psychological Science and the Law
Edited by Neil Brewer and Amy Bradfield Douglass
Hardcover
April 4, 2019
$47.00
e-Book
March 5, 2019
$47.00
Print +

e-Book


Save 45%!
$94.00
$51.70