Oliver P. John
Oliver P. John, PhD, is Professor of Psychology and Research Psychologist at the Institute of Personality and Social Research at the University of California, Berkeley. He has served as Associate Editor of Personality and Social Psychology Bulletin and has contributed nationally and internationally to the application of psychological research to economic and education policy. Dr. John is a recipient of the Jack Block Award for Senior Career Contributions to Personality Psychology from the Society for Personality and Social Psychology and the Best Paper of the Year Award from the Journal of Research in Personality, among numerous other honors. His research focuses on personality structure and development, emotion expression and regulation, self and self-perception processes, and research methods; his Big Five Inventory and Emotion Regulation Questionnaire have been translated into more than 20 languages.

---
All titles by Oliver P. John: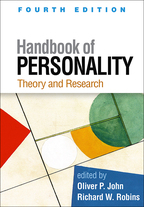 Handbook of Personality: Fourth Edition: Theory and Research

Edited by Oliver P. John and Richard W. Robins
Hardcover
February 19, 2021
$125.00
$93.75
e-Book
January 26, 2021
$125.00
$93.75
Print + e-Book
Save 45%!
$250.00
$137.50