Otto F. Kernberg

Otto F. Kernberg, MD, is Professor of Psychiatry and Director of the Personality Disorders Institute at New York Presbyterian Hospital–Weill Cornell Medical College, Training and Supervising Analyst at the Columbia University Center for Psychoanalytic Training and Research, and Distinguished Visiting Professor of Psychiatry at the Albert Einstein College of Medicine. Dr. Kernberg is an Honorary Member of many international psychoanalytic institutes, past president of the International Psychoanalytic Association, and Distinguished Life Fellow of the American Psychiatric Association (APA). He is a recipient of the Distinguished Service Award from the APA, the first Sigourney Award for Distinguished Contributions to Psychoanalysis, the Edward A. Strecker Award from the Institute of Pennsylvania Hospital, and the Heinz Hartmann Award from the New York Psychoanalytic Institute, among other honors. Dr. Kernberg has conducted research and published seminal books and articles on psychoanalytic psychotherapy, psychoanalytic object relations theory, and severe personality disorders.


---
All titles by Otto F. Kernberg: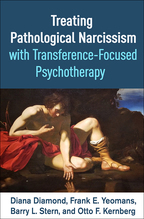 Treating Pathological Narcissism with Transference-Focused Psychotherapy

Diana Diamond, Frank E. Yeomans, Barry L. Stern, and Otto F. Kernberg
Hardcover
November 11, 2021
$55.00
e-Book
September 8, 2021
$55.00
Print + e-Book
Save 45%!
$110.00
$60.50