Paul L. Hewitt

Paul L. Hewitt, PhD, is Professor in the Department of Psychology at the University of British Columbia, Canada. He is a Fellow of the Canadian Psychological Association and of the Association's Section on Clinical Psychology. Dr. Hewitt was recently cited as one of the top 10 Canadian clinical psychology professors for research productivity. He has published over 200 research papers, books, and chapters on perfectionism, psychopathology, and psychotherapy, and has conducted collaborative work on perfectionism with Gordon L. Flett since 1989. He has a private practice in clinical psychology, consults with numerous organizations, and is regularly asked to speak at national and international conferences on perfectionism research and treatment.

---
All titles by Paul L. Hewitt: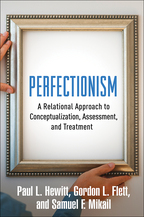 Perfectionism: A Relational Approach to Conceptualization, Assessment, and Treatment

Paul L. Hewitt, Gordon L. Flett, and Samuel F. Mikail
Hardcover
March 29, 2017
$45.00
$38.25
e-Book
March 16, 2017
$45.00
$38.25
Print + e-Book
Save 45%!
$90.00
$49.50