Peter M. Monti
Peter M. Monti, PhD, a clinical psychologist, is Donald G. Millar Distinguished Professor of Alcohol and Addiction Studies and Director of the Center for Alcohol and Addiction Studies at Brown University, where he also serves as Professor of Behavioral and Social Sciences and of Psychiatry and Human Behavior. He is a past president of the Research Society on Alcoholism (RSA) and the recipient of the Marlatt Mentorship Award and Distinguished Researcher Awards from the RSA, the Lifetime Achievement Award from the Addictive Behaviors Special Interest Group of the Association for Behavioral and Cognitive Therapies, and the Distinguished Career Contributions to Education and Training Award from Division 50 (Society of Addiction Psychology) of the American Psychological Association. Dr. Monti is a recognized leader in understanding the biobehavioral mechanisms that underlie addictive behavior and its prevention and treatment. He has published several books and approximately 400 papers and chapters.


---
All titles by Peter M. Monti: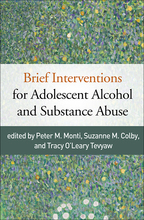 Brief Interventions for Adolescent Alcohol and Substance Abuse

Edited by Peter M. Monti, Suzanne M. Colby, and Tracy O'Leary Tevyaw
Hardcover
May 21, 2018
$45.00
$38.25
e-Book
May 21, 2018
$45.00
$38.25
Print + e-Book
Save 45%!
$90.00
$49.50