Riccardo Dalle Grave

Riccardo Dalle Grave, MD, is Director of the Department of Eating and Weight Disorders at Villa Garda Hospital in Verona, Italy. In collaboration with Christopher G. Fairburn, Dr. Dalle Grave has developed an inpatient treatment program for eating disorders at Villa Garda based entirely on enhanced cognitive behavior therapy (CBT-E), including an adapted program for adolescents. His current research includes assessing the effectiveness of CBT-E in treatment of significantly underweight adults and adolescents with eating disorders in both outpatient and inpatient settings. Dr. Dalle Grave is editor of the CBT-E website (cbte.co) and Director of the Advanced Training Course on the Treatment and Prevention of Eating Disorders and Obesity sponsored by the Italian Eating and Weight Disorder Association. He also provides CBT-E supervision for clinical services in Europe, the United States, Australia, and the Middle East. He is a Fellow of the Academy of Eating Disorders and serves on the editorial boards of several journals in the field.

---
All titles by Riccardo Dalle Grave: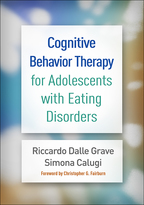 Cognitive Behavior Therapy for Adolescents with Eating Disorders

Riccardo Dalle Grave and Simona Calugi
Foreword by Christopher G. Fairburn
Hardcover
April 30, 2020
$40.00
$30.00
e-Book
March 24, 2020
$40.00
$30.00
Print + e-Book
Save 45%!
$80.00
$44.00