Richard C. Friedman
Richard C. Friedman, MD, Editor-in-Chief of Psychodynamic Psychiatry, is Clinical Professor of Psychiatry at Weill Cornell Medical College, Lecturer in Psychiatry at the Columbia University College of Physicians and Surgeons, and Faculty Member at the Columbia Center for Psychoanalytic Training and Research. His book on male homosexuality was the first to integrate neuroscience, sexology, developmental psychology, and psychoanalytic theory and practice. He began a collaboration with Jennifer I. Downey in 1991 that led to many publications and a book on sexual orientation and psychoanalysis. Drs. Friedman and Downey served as Co-Chairs of the Human Sexuality Committee of the Group for the Advancement of Psychiatry. Dr. Friedman is a recipient of the Mary S. Sigourney Award from the Sigourney Trust. He practices in New York City.


---
All titles by Richard C. Friedman: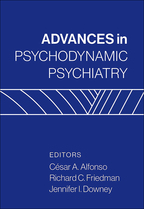 Advances in Psychodynamic Psychiatry
Edited by César A. Alfonso, Richard C. Friedman, and Jennifer I. Downey
Hardcover
November 30, 2018
$49.00
e-Book
November 30, 2018
$49.00
Print + e-Book
Save 45%!
$98.00
$53.90