Ross A. Thompson

Ross A. Thompson, PhD, is Distinguished Professor of Psychology at the University of California, Davis, where he directs the Social and Emotional Development Lab. Dr. Thompson studies the development of positive social motivation in young children, with a focus on the influence of early relationships. He also writes on the applications of developmental science to practice and policy related to children in poverty, early childhood mental health, and early education. He is an associate editor of Child Development, past president of Zero to Three, and a recipient of the Urie Bronfenbrenner Award for Lifetime Contribution to Developmental Psychology in the Service of Science and Society from Division 7 of the American Psychological Association.

---
All titles by Ross A. Thompson: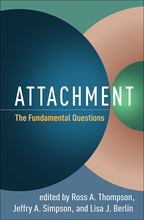 Attachment: The Fundamental Questions
Edited by Ross A. Thompson, Jeffry A. Simpson, and Lisa J. Berlin
Hardcover
April 23, 2021
$55.00
e-Book
April 23, 2021
$55.00
Print +

e-Book


Save 45%!
$110.00
$60.50