Ruth A. Ervin
Ruth A. Ervin, PhD, is Associate Professor (part-time) at the University of British Columbia, Vancouver, Canada. Dr. Ervin's teaching and research interests include promoting systems-level change to address research-to-practice gaps in school settings; collaborative consultation with school personnel, parents, and other service providers for the prevention and treatment of emotional and/or behavioral disorders via a data-driven, solution-oriented problem-solving approach; and linking assessment to intervention to promote academic performance and socially significant outcomes for school-age children.


---
All titles by Ruth A. Ervin: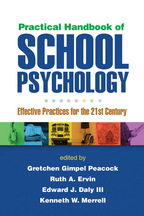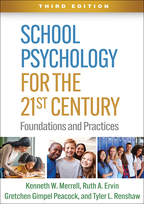 School Psychology for the 21st Century: Third Edition: Foundations and Practices

Kenneth W. Merrell, Ruth A. Ervin, Gretchen Gimpel Peacock, and Tyler L. Renshaw
Hardcover
May 4, 2022
$65.00
e-Book
April 6, 2022
$65.00
Print + e-Book
Save 45%!
$130.00
$71.50