Ryan L. Boyd

Ryan L. Boyd, PhD, is Assistant Professor of Behavioral Analytics at Lancaster University in the United Kingdom, holding shared appointments in the Department of Psychology, Security Lancaster, and the Data Science Institute. His research interests broadly revolve around how our motives are revealed in language—that is, how our everyday words provide clues to why we think, feel, and behave in the ways that we do. Dr. Boyd's research spans topics ranging from personality to society, mental health, human sexuality, and storytelling. He has authored dozens of free, open-source text analysis programs for social scientists, and he has been involved in the development of Linguistic Inquiry and Word Count since 2015. Dr. Boyd is on the editorial boards at PLOS ONE and Frontiers in Artificial Intelligence: Language and Computation, and is a member of the advisory board for Psychology of Language and Communication.


---
All titles by Ryan L. Boyd: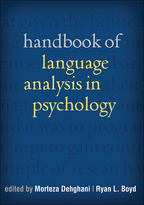 Handbook of Language Analysis in Psychology

Edited by Morteza Dehghani and Ryan L. Boyd
Hardcover
March 2, 2022
$95.00
e-Book
January 5, 2022
$95.00
Print + e-Book
Save 45%!
$190.00
$104.50