Susie A. Hales

Susie A. Hales, DClinPsy, is Research Tutor and Clinical Psychologist at the Oxford Institute of Clinical Psychology Training, University of Oxford, United Kingdom. Her research focuses on mental imagery processes and treatment innovation for mood disorders. Dr. Hales has published papers on psychological aspects of bipolar disorder and suicidality, and on novel ways of delivering cognitive therapy. She is active in the supervision and training of mental health professionals in a range of research and clinical competencies.

---
All titles by Susie A. Hales: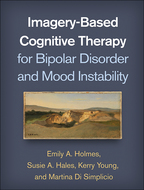 Imagery-Based Cognitive Therapy for Bipolar Disorder and Mood Instability

Emily A. Holmes, Susie A. Hales, Kerry Young, and Martina Di Simplicio
Foreword by Gillian Butler
Afterword by Guy Goodwin
Paperback
May 30, 2019
$30.00
$25.50
e-Book
May 30, 2019
$30.00
$25.50
Print + e-Book
Save 45%!
$60.00
$33.00