Suzanne M. Colby

Suzanne M. Colby, PhD, is Professor of Psychiatry and Human Behavior and Associate Director of the Center for Alcohol and Addiction Studies at Brown University. She is a senior editor of the journal Addiction and a Fellow of Divisions 28 (Psychopharmacology and Substance Abuse) and 50 (Society of Addiction Psychology) of the American Psychological Association. She is president-elect of the Society for Research on Nicotine & Tobacco (SRNT) and Chair of SRNT's Adolescent Research Network. Dr. Colby's research focuses on the development of innovative brief alcohol and other substance use interventions, particularly for underserved adolescents and young adults. She has conducted numerous randomized controlled trials of brief motivational interventions for adolescent smoking cessation, along with a series of laboratory-based studies of adolescent nicotine dependence and withdrawal.


---
All titles by Suzanne M. Colby: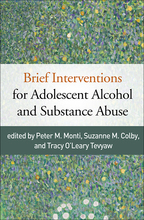 Brief Interventions for Adolescent Alcohol and Substance Abuse

Edited by Peter M. Monti, Suzanne M. Colby, and Tracy O'Leary Tevyaw
Hardcover
May 18, 2018
$45.00
$38.25
e-Book
April 16, 2018
$45.00
$38.25
Print + e-Book
Save 45%!
$90.00
$49.50