T. Steuart Watson
T. Steuart Watson, PhD, retired in 2011 from Miami University, where he was Professor in the Department of Educational Psychology. He is a recipient of the Lightner Witmer Award from Division 16 (School Psychology) of the American Psychological Association. Dr. Watson is a former coeditor of the Journal of Evidence-Based Practices for Schools, and he has written numerous articles, books, and book chapters on behavioral interventions, functional assessment, and the application of behavioral principles in school settings. His research has focused on evaluating the effects of external reinforcers on motivation, direct behavioral consultation, improving the effectiveness and efficiency of behavioral interventions, promoting treatment integrity, functional assessment methodologies, and investigating the effects of olfactory stimuli on learning.


---
All titles by T. Steuart Watson: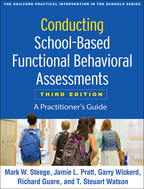 Conducting School-Based Functional Behavioral Assessments: Third Edition: A Practitioner's Guide

Mark W. Steege, Jamie L. Pratt, Garry Wickerd, Richard Guare, and T. Steuart Watson
Foreword by Frank M. Gresham
Paperback
February 26, 2019
$40.00
$34.00
e-Book
January 17, 2019
$40.00
$34.00
Print + e-Book
Save 45%!
$80.00
$44.00