Wolfgang Schneider

Wolfgang Schneider, PhD, is University Vice-President and Professor of Psychology at the University of Würzburg, Germany. He earned his PhD in psychology from the University of Heidelberg in 1979. He is Past President of the German Psychological Society and President-Elect of the International Society for the Study of Behavioral Development. His research interests include the development of memory and metacognition, giftedness and expertise, and reading and spelling, as well as the prevention of reading and math difficulties.


---
All titles by Wolfgang Schneider: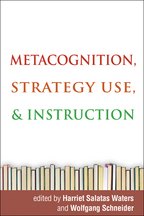 Metacognition, Strategy Use, and Instruction
Edited by Harriet Salatas Waters and Wolfgang Schneider
Foreword by John G. Borkowski
Hardcover
September 1, 2009
$51.00
e-Book
March 1, 2011
$51.00
Print + e-Book
Save 45%!
$102.00
$56.10