Bestselling Clinical Guide and Text
More than 375,000 in print!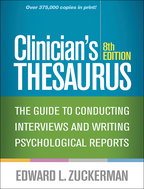 Create flyer
Clinician's Thesaurus
Eighth Edition
The Guide to Conducting Interviews and Writing Psychological Reports
Hardcover
A Paperback Original
e-book
print + e-book
Hardcover
April 16, 2019
ISBN 9781462548200
Price: $89.00
400 Pages
Size: 8" x 10½"
order
A Paperback Original
April 16, 2019
ISBN 9781462538805
Price: $59.00
400 Pages
Size: 8" x 10½"
order
Check out a special package offer including this title!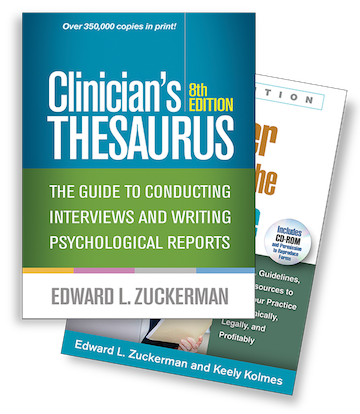 ---
H
undreds of thousands of students and early-career professionals have relied on this authoritative report-writing tool, now updated for DSM-5/ICD-10-CM and newer types of evaluations. In a convenient8" x 10.5"format, the book covers nearly all areas of concern addressed in intakes, evaluations, treatment plans, progress notes, and closing summaries. The user seeking the right wording for a clinical document can skim and select from thousands of technical terms, behavioral descriptors, and standard statements. Also provided are interview questions for almost every symptomatic behavior, a huge collection of mental status questions, a reproducible Mental Status Evaluation summary form, and links to hundreds of internet resources. The
companion website
offers all the URLs from the book, the reproducible forms, and a handy reference on current psychiatric medications.
New to This Edition
A list of all psychiatric ICD-10 diagnoses (all of the codes in DSM-5, plus many more), including Z codes essential to a comprehensive biopsychosocial evaluation.
Sample evaluation report keyed to the book's chapters.
Sections on additional clinical issues: intimate partner violence, gender identity, human trafficking, recovery-oriented language, and more.
Many more Internet links, including a wide variety of screening and assessment tools.
See also
The Paper Office for the Digital Age, Fifth Edition
, by Edward L. Zuckerman and Keely Kolmes, which provides the essential record-keeping and risk-reduction tools that every psychotherapy practice needs.