Bestseller
More than 65,000 in print!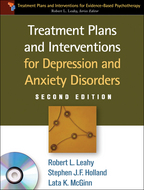 Create flyer
Treatment Plans and Interventions for Depression and Anxiety Disorders
Second Edition
Paperback + CD-ROM
e-book
print + e-book
Paperback + CD-ROM
October 26, 2011
ISBN 9781609186494
Price: $83.00
490 Pages
Size: 8" x 10½"
Paperback + CD-ROM
order
---
Sign up for
emails
on upcoming titles by Robert L. Leahy (with special discounts)!
---
T
his widely used book and accompanying CD-ROM are packed with indispensable tools for treating the most common clinical problems encountered in outpatient mental health practice. Chapters provide basic information on depression and the six major anxiety disorders; step-by-step instructions for evidence-based assessment and intervention; illustrative case examples; and practical guidance for writing reports and dealing with third-party payers. In a convenient large-size format, the book features 74 reproducible client handouts, homework sheets, and therapist forms for assessment and record keeping. The CD-ROM enables clinicians to rapidly generate individualized treatment plans, print extra copies of the forms, and find information on frequently prescribed medications.
New to This Edition
The latest research on each disorder and its treatment.
Innovative techniques that draw on cognitive, behavioral, and mindfulness- and acceptance-based approaches.
Two chapters offering expanded descriptions of basic behavioral and cognitive techniques.
More than half of the 74 reproducibles are entirely new.
This title is part of the Treatment Plans and Interventions for Evidence-Based Psychotherapy series, edited by Robert L. Leahy.