Christopher Slobogin

Christopher Slobogin, JD, LLM, is Milton Underwood Chair at Vanderbilt University Law School. He is the first law professor to receive Distinguished Contribution Awards from both the American Psychology-Law Society and the American Board of Forensic Psychology. Mr. Slobogin has published over 150 works on mental health law and criminal justice, and is currently one of the 40 most cited law professors in the country. He recently served as chair of the task force revising the American Bar Association's Criminal Justice Mental Health Standards, and was also a Reporter for the ABA's Task Force on Mental Disability and the Death Penalty.


---
Read a Q & A
with Christopher Slobogin, our February Author of the Month!
---
All titles by Christopher Slobogin: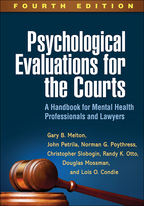 Psychological Evaluations for the Courts: Fourth Edition: A Handbook for Mental Health Professionals and Lawyers

Gary B. Melton, John Petrila, Norman G. Poythress, Christopher Slobogin, Randy K. Otto, Douglas Mossman, and Lois O. Condie
Hardcover
December 22, 2017
$95.00
$80.75
e-Book
December 4, 2017
$95.00
$80.75
Print + e-Book
Save 45%!
$190.00
$104.50