New Edition of the Classic Work
More than 40,000 in print!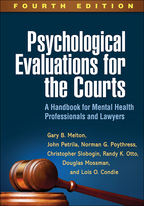 Psychological Evaluations for the Courts
Fourth Edition
A Handbook for Mental Health Professionals and Lawyers
Hardcover
December 22, 2017
ISBN 9781462532667
Price: $125.00 $106.25
1202 Pages
Size: 7" x 10"
pre-order
e-book
December 22, 2017
Price: $125.00 $106.25
1202 Pages
coming soon!

Professors: Free copies available for adoption consideration
---
The new edition will be published December 22, 2017. If you need this title before then, please see the
previous edition
.
---
T
ens of thousands of readers have relied on this leading text and practitioner reference—now revised and updated—to understand the issues the legal system most commonly asks mental health professionals to address. Highly readable, the volume demystifies the forensic psychological assessment process and provides guidelines for participating effectively and ethically in legal proceedings. Presented are clinical and legal concepts and evidence-based assessment procedures pertaining to criminal and civil competencies, the insanity defense and related doctrines, sentencing, civil commitment, personal injury claims, antidiscrimination laws, child custody, juvenile justice, and other justice-related areas. Case examples, exercises, and a glossary facilitate learning; 19 sample reports illustrate how to conduct and write up thorough, legally admissible evaluations.
New to This Edition
Extensively revised to reflect important legal, empirical and clinical developments.
Increased attention to medical and neuroscientific research.
New protocols relevant to competence, risk assessment, child custody, and mental injury evaluations.
Updates on insanity, sentencing, civil commitment, the Americans with Disabilities Act, Social Security, juvenile and family law, and the admissibility of expert testimony.
Treatment of immigration law (including a sample report) and international law.
New and revised sample reports.