David H. Rosmarin
David H. Rosmarin, PhD, ABPP, is Assistant Professor in the Department of Psychiatry at Harvard Medical School and Director of the Spirituality and Mental Health Program at McLean Hospital. He is also founder and director of the Center for Anxiety, a private practice with offices throughout metropolitan New York and in Boston. The author of more than 60 peer-reviewed scientific publications, editorials, and book chapters, Dr. Rosmarin is a clinical innovator and prolific researcher on spirituality and mental health who is widely cited in the media. Clinically, he provides behavior therapy for patients presenting with anxiety, affective, personality, psychotic, somatoform, and other disorders, while attending to relevant spiritual factors.

---
All titles by David H. Rosmarin: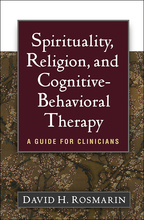 Spirituality, Religion, and Cognitive-Behavioral Therapy: A Guide for Clinicians

David H. Rosmarin
Hardcover
May 28, 2018
$30.00
$25.50
e-Book
March 19, 2018
$30.00
$25.50
Print + e-Book
Save 45%!
$60.00
$33.00