Douglas K. Snyder

Douglas K. Snyder, PhD, is Professor of Psychological and Brain Sciences at Texas A&M University, where he also served as Director of Clinical Training for 20 years. Dr. Snyder has engaged in clinical practice and training of couple therapists since the 1970s, and is a clinical member of the American Association for Marriage and Family Therapy (AAMFT). He is coauthor or coeditor of several books, including Helping Couples Get Past the Affair and Couple-Based Interventions for Military and Veteran Families. Dr. Snyder has served as editor of the Clinician's Research Digest and as associate editor of the Journal of Consulting and Clinical Psychology and the Journal of Family Psychology. He is a recipient of the Distinguished Contribution to Research in Family Therapy Award from AAMFT, the Distinguished Contribution to Family Psychology Award from Division 43 (Society for Couple and Family Psychology) of the American Psychological Association (APA),and the Distinguished Psychologist Award from Division 29 (Society for the Advancement of Psychotherapy) of APA.

---
All titles by Douglas K. Snyder: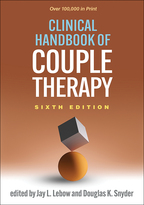 Clinical Handbook of Couple Therapy: Sixth Edition

Edited by Jay L. Lebow and Douglas K. Snyder
Hardcover
October 21, 2022
$110.00
e-Book
July 27, 2022
$110.00
Print +

e-Book


Save 45%!
$220.00
$121.00