New Edition of a Bestseller
More than 75,000 in print!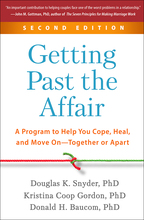 Create flyer
Getting Past the Affair
Second Edition
A Program to Help You Cope, Heal, and Move On—Together or Apart
Hardcover
Paperback
e-book
print + e-book
Hardcover
September 29, 2023
ISBN 9781462552832
Price: $29.00
294 Pages
Size: 6" x 9"
pre-order
Paperback
September 29, 2023
ISBN 9781462547487
Price: $18.95
294 Pages
Size: 6" x 9"
pre-order
---
The new edition will be published September 29, 2023. If you need this title before then, please see the
previous edition
.
---
Sign up for
emails
on upcoming titles on Families & Couples (with special discounts)!
---
D

iscovering that a partner has had an affair can feel like an earthquake.

Long after the first jolt, emotional aftershocks can make it difficult to be there for family, manage daily life, and think clearly about options. From award-winning couple therapists, this compassionate guide has already provided support and expert advice to thousands of readers. Updated throughout, the second edition draws on the latest research and is filled with vivid stories of diverse couples struggling with infidelity in all its forms—sexual or emotional, in-person or online. The book offers exercises and tips for processing what happened, coping with anger and mistrust, and mapping a way to move forward, whether separately or together.