Douglas Mossman

Douglas Mossman, MD, until his death in 2018, was Professor of Clinical Psychiatry and Program Director of the Forensic Psychiatry Fellowship at the University of Cincinnati College of Medicine. A board-certified general and forensic psychiatrist and Distinguished Life Fellow of the American Psychiatric Association, Dr. Mossman authored more than 180 publications on diverse issues in medicine and law, including competence, judgment models, malingering measures, psychotropic medication, malpractice, psychiatric ethics, and novel mathematical approaches to diagnostic assessment. He received the American Psychiatric Association's Manfred S. Guttmacher Award for outstanding contributions to the literature on forensic psychiatry. Hundreds of scientific and legal works cite his 1994 article, "Assessing Predictions of Violence: Being Accurate about Accuracy."


---
All titles by Douglas Mossman: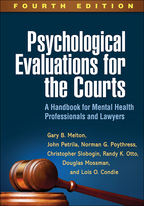 Psychological Evaluations for the Courts: Fourth Edition: A Handbook for Mental Health Professionals and Lawyers

Gary B. Melton, John Petrila, Norman G. Poythress, Christopher Slobogin, Randy K. Otto, Douglas Mossman, and Lois O. Condie
Hardcover
December 22, 2017
$95.00
$80.75
e-Book
December 4, 2017
$95.00
$80.75
Print + e-Book
Save 45%!
$190.00
$104.50