E. Tory Higgins

E. Tory Higgins, PhD, is the Stanley Schachter Professor of Psychology at Columbia University, where he is also Professor and Director of the Motivation Science Center at the Columbia Business School. He is a Fellow of the American Academy of Arts and Sciences. Dr. Higgins has received the Distinguished Scientist Award from the Society of Experimental Social Psychology, the Anneliese Maier Research Award from the Alexander von Humboldt Foundation in Germany, the William James Fellow Award from the Association for Psychological Science, and the Award for Distinguished Scientific Contributions from the American Psychological Association, among other awards for his research, teaching, and mentoring.


---
All titles by E. Tory Higgins: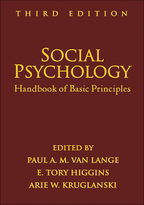 Social Psychology: Third Edition: Handbook of Basic Principles

Edited by Paul A. M. Van Lange, E. Tory Higgins, and Arie W. Kruglanski
Hardcover
November 3, 2020
$125.00
$93.75
e-Book
October 20, 2020
$125.00
$93.75
Print + e-Book
Save 45%!
$250.00
$137.50