Edward Messner
Edward Messner, MD, until his death in 2006, was a Senior Psychiatrist at Massachusetts General Hospital (MGH) and Associate Clinical Professor of Psychiatry at Harvard Medical School. Dr. Messner trained as a psychiatrist at the Boston VA Hospital, at Boston's Thom Clinic, and at MGH. He also graduated from the Boston Psychoanalytic Institute as a certified psychoanalyst. Dr. Messner received the Teacher of the Year award from the MGH Department of Psychiatry eight times. To honor him and his qualities of "kindness, compassion, understanding, insightfulness, humility, and selflessness in his daily work with patients and as an untiring teacher and supervisor of residents," the MGH/McLean Adult Psychiatry Residency created the Edward Messner Faculty and Resident Awards in 2008. These awards annually recognize outstanding and committed teaching in Adult Psychiatry by both a faculty member and a graduating resident.


---
All titles by Edward Messner: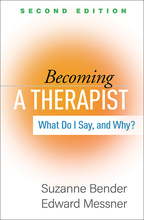 Becoming a Therapist: Second Edition: What Do I Say, and Why?

Suzanne Bender and Edward Messner
Foreword by Nhi-Ha Trinh