The Mental Health Clinician's Workbook
Locking In Your Professional Skills
Hardcover
Paperback
e-book
print + e-book
Hardcover
March 26, 2018
ISBN 9781462534852
Price: $59.00
326 Pages
Size: 8" x 10½"
order
Paperback
March 30, 2018
ISBN 9781462534845
Price: $39.00
326 Pages
Size: 8" x 10½"
order
e-book
February 20, 2018
Price: $39.00
326 Pages
order
print + e-book
Price: $78.00 $46.80
326 Pages
order
Check out a special package offer including this title!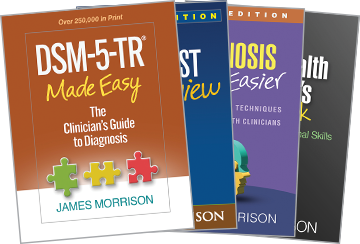 ---
Read a Q&A
with featured author, James Morrison!
---
Sign up for
emails
on upcoming titles by James Morrison (with special discounts)!
---
R
ich with compelling case material, this hands-on workbook helps mental health practitioners and students build essential skills for clinical evaluation and differential diagnosis. Renowned diagnostician and bestselling author James Morrison (
DSM-5 Made Easy
and other works) invites the reader to interview and evaluate 26 patients with a wide spectrum of presenting complaints and ultimate diagnoses. Using multiple-choice questions and fill-in-the-blank exercises, clinicians practice the arts of interviewing and making diagnostic decisions. The convenient large-size format facilitates use. Extensive tables in the appendix provide a quick-reference guide to the interviewing techniques, diagnostic principles, and clinical diagnoses discussed in each case.
See also Morrison's
DSM-5-TR® Made Easy
, which explains DSM diagnoses in clear language, illustrated with vivid case vignettes;
Diagnosis Made Easier
, Second Edition, which offers principles and decision trees for integrating diagnostic information from multiple sources; and
The First Interview, Fourth Edition
, which presents a framework for conducting thorough, empathic initial evaluations.