G. Reid Lyon

G. Reid Lyon, PhD, is Distinguished Scientist Emeritus in Neuroscience and Cognition at the Center for Brain Health, The University of Texas at Dallas. He is also Distinguished Professor Emeritus at Southern Methodist University, where he served as Associate Dean of the Annette Caldwell Simmons School of Education and Human Development and Chair of the Department of Education Policy and Leadership. He served on the Maternal and Child Health study section of the National Institute of Child Health and Human Development (NICHD) and chaired the NICHD Learning Disability Research Centers Reading Development and Disorders study sections. Dr. Lyon has published over 135 articles, books, and book chapters addressing dyslexia, classification and definition of learning disabilities, developmental neuroimaging, neurophysiological correlates of reading interventions, and the development of gist reasoning in adolescents. He is a recipient of the Director's Award for Scientific Leadership in Neuroscience and Learning Disabilities from the National Institutes of Health and of the Norman Geschwind Memorial Lecture and the Samuel Torrey Orton Award from the International Dyslexia Association.

---
All titles by G. Reid Lyon: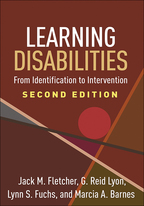 Learning Disabilities: Second Edition: From Identification to Intervention

Jack M. Fletcher, G. Reid Lyon, Lynn S. Fuchs, and Marcia A. Barnes
Hardcover
November 21, 2018
$45.00
$38.25
e-Book
November 16, 2018
$45.00
$38.25
Print + e-Book
Save 45%!
$90.00
$49.50