H. Gerry Taylor

H. Gerry Taylor, PhD, ABPP-CN, is a pediatric neuropsychologist at the Center for Biobehavioral Health (CBH) at the Abigail Wexner Research Institute, Nationwide Children's Hospital, Columbus, Ohio, and Professor of Pediatrics at The Ohio State University. Dr. Taylor heads an initiative at CBH to further understanding of neurodevelopmental outcomes for children with brain-related disorders. He has contributed to research on several neurodevelopmental conditions, including preterm birth, traumatic brain injury, and speech sound disorders, as well as to clinical trials for children with sleep disorders and young adults with Down syndrome. Dr. Taylor is also collaborating on the creation of a parent-based assessment of infant development. His research aims to increase knowledge about child and family consequences of brain-related disorders as well as medical and environmental factors that predict child development.


---
All titles by H. Gerry Taylor: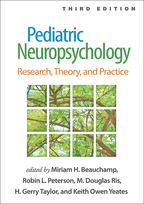 Pediatric Neuropsychology: Third Edition: Research, Theory, and Practice

Edited by Miriam H. Beauchamp, Robin L. Peterson, M. Douglas Ris, H. Gerry Taylor, and Keith Owen Yeates
Hardcover
July 11, 2022
$95.00
e-Book
April 21, 2022
$95.00
Print +

e-Book


Save 45%!
$190.00
$104.50