John Fels
John Fels, PhD, until his death in 2014, was Adjunct Associate Professor in the Graduate GIS Faculty at North Carolina State University. He worked as a professional cartographer with the Ontario Ministry of Natural Resources and as a freelance cartographic designer and consultant, and developed and taught the core design curriculum in the Cartography Program at Sir Sandford Fleming College in Ontario. Dr. Fels was the author of the North Carolina Watersheds map and also coauthor (with Denis Wood) of The Natures of Maps.


---
All titles by John Fels: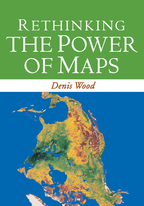 Rethinking the Power of Maps
Denis Wood
With John Fels and John Krygier
Paperback
April 16, 2010
$42.00
e-Book
March 1, 2011
$42.00
Print + e-Book
Save 45%!
$84.00
$46.20