Joni L. Mihura

Joni L. Mihura, PhD, is Professor of Psychology at the University of Toledo, where she teaches personality assessment, advanced assessment, and psychodynamic/integrative psychotherapy. She received early career awards from the American Psychoanalytic Association and the Society for Personality Assessment (SPA), as well as the Walter G. Klopfer Award for Distinguished Contribution to the Literature from SPA, and is a Fellow and past board member of SPA. Dr. Mihura serves on the editorial boards of the Journal of Personality Assessment and Rorschachiana, has published many articles and chapters on psychological assessment, and is coeditor of the Handbook of Gender and Sexuality in Psychological Assessment. She is a codeveloper of R-PAS (www.r-pas.org) and presents invited lectures and trainings internationally.


---
All titles by Joni L. Mihura: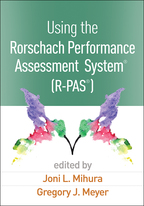 Using the Rorschach Performance Assessment System® (R-PAS®)

Edited by Joni L. Mihura and Gregory J. Meyer
Hardcover
December 12, 2017
$50.00
$42.50
e-Book
November 16, 2017
$50.00
$42.50
Print + e-Book
Save 45%!
$100.00
$55.00